Welcome to Tattered Trading. We're a resale clothing store where we buy, sell, and trade with our customers. That means we buy used clothing direct from your closet and give you cash or store credit. 
Come sell us your clothes in person. Or shop online to build your wardrobe,
piece by piece. 
Come celebrate Tattered's 10 Year anniversary ❤︎₊ ⊹
Join us for our biggest sale of the year with the annual $1 Sale and Storewide Sale ✩ We will be gifting customers free Tattered tote bags with a purchase of $50+!
Pop-ups from 11am-4pm
★ Delicious bites from @veganbanhmithao
★ Featuring live tunes along with records & cassettes for sale from @taylorforney
★ Custom airbrush clothing by @echo_life_airbrush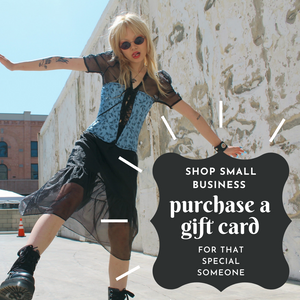 we sell gift cards!
Not sure what to get that special someone? Tattered has got you covered! You can purchase a gift card online or in person at our brick and mortar store in Long Beach.
click here to purchase